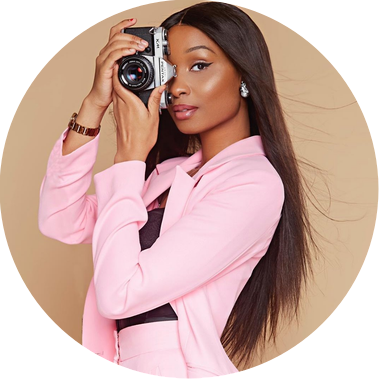 As a young adult, Amanda began her corporate career at a firm following a Law degree at University. Unfulfilled and unsatisfied, it pushed her to find shelter in her true passion - Photography. What started of 11 years ago as a young Amanda running off with her father's phone to capture portraits every opportunity she could, would eventually develop into a flourishing, rewarding career.
Now, Amanda Akokhia is an acclaimed award-winning Photographer that defines her own sector within the market. Confined to neither Fashion, Beauty nor Photography, self taught Amanda has used her creativity to seamlessly combine the three into her own unique look. Her expert grasp on lighting, refined editing techniques and creative artistic capacity are gateways and tools through which she narrates a visual story. Her words are replaced by striking colour combinations, highlighted radiant hues and poignant framing. Her plot is the human subject, with all the bumps, freckles and intricacies of the face dictating the timeline. And her story? Well, that's for her to define…
In pursuit of practising portrait photography, Amanda spent time learning from the beauty industry and incorporating her knowledge with her practice. However, her interests didn't stop there. Her personal love of fashion and the creative narration that styling can bring to an image, led her to bridge her differing pursuits in order to define her own equilibrium.
Amanda uses styling to tinker with her stories allowing for more defined and striking narratives. With plenty of captivating editorials and timeless campaigns under her belt, every pursuit highlights her potential, versatility and pure creative vision.
As a minority in a male dominated industry, Amanda is a beacon of hope for upcoming female photographers. Her work has given voices to minorities seldom highlighted and worked to amplify meaningful messages in social media. One of collaboration, of acceptance and of growth.
A supernova in the making, Amanda Akokhia is a photographer who integrates their craft with their personhood and as a result creates timeless, spirited art. The very definition of someone to watch.
An Award- Winning Photographer, Amanda Akokhia is a beauty and fashion photographer with a focus on portrait work. She is the owner of Green Studios and has over 11 years of experience in the field. Her experience encapsulates; fashion editorials, beauty shoots, brand campaigns and much more.
Amanda has worked with top organisations some of which include BBC, Warner Bros, Pantene, Superdrug, Makeup Revolution as well as top international celebrities for their branding and Magazine covers. In addition to being featured on ITV News, Channel 5 News, and The Daily Mail, Amanda's images have been published in British Vogue, Harper's Bazaar, Forbes, Tatler Magazine, Cosmopolitan and Grazia. She was also the photographer for Breast Cancer Awareness month October 2020 and for the NHS charity event to celebrate key workers.
Clients
Youtube, Pantene, Warner Bros, Makeup Revolution , Pepsi Nigeria, Penguin House UK, Superdrug, Too Faced Makeup, Penguin House UK, Tatler Magazine, Harper's Bazaar, Cosmopolitan, Grazia, NHS, BBC.